Bike riding is always an important part of summertime for our family. We live right by a bike trail so we try to get out as often as we can. My 4 (almost 5) year old daughter has been very hesitant to learn how to ride a bike so she spent the last few summers in a bike trailer behind my husbands bike. We made a goal with her that this year would be the year that she would learn to ride her bike by herself! We are hoping by early this summer to be able to take off her training wheels!
Luckily, we had the opportunity to work with Schwinn on a great partnership with their Schwinn SmartStart bikes available at Toys R Us. Learning how to ride a bike can be frustrating, but as a parent there are simple things that we can do to make the process as fun as possible. Here are 4 tips for teaching young kids how to ride a bike.
Safety First! This is such an important step in the teaching process for riding a bike. I have found that if you make safety part of the process it will become a habit early on. Riding a bike can be a lot of fun, but if you don't take safety into account, they can get hurt. Especially when they are just learning. Teach your kids the importance of wearing a helmet. Kids do really well when they understand that there is a reason. Let them know that the helmet protects their head if they were to fall off their bike. If your kid is anything like my daughter, she is more than excited to wear the helmet because it is adorable with cute colors and animals. In fact-- she is often found wearing it in the house! 🙂
2. Stay calm. Yikes. This can be really hard when your kid isn't catching on. If you aren't able to stay calm, it will become a frustrating situation for both of you. When we first took my daughter out on her Schwinn SmartStart Jamboree bike, she spent so much time watching her feet that she constantly rode off the side of the trail. Luckily, my husband was good at making it fun and we were able to remind her to look up in front of her as she pedaled. Staying calming with help your child stay calm and make the whole process better.
3. Teach about balance. Balance is such an important part of riding a bike. When they have training wheels, it really helps them to learn how to balance, but eventually those training wheels do need to come off! In the beginning, balance can be really scary because they are afraid of falling, but once they figure out out, it gets easier and their confidence grows. The Schwinn SmartStart Jamboree Bike has 16" wheel size which is the perfect learn to ride size. This helps your child wobble less and learn to ride with better balance.
4. Choose a comfortable bike and adjust it to their size. Just because you found your child a bike does not mean that it is the perfect bike for them. There are bikes made for different sizes and each bike can be adjusted to best fit your child. Before you teach your child to ride a bike, have them sit on it and make sure that the adjustment is perfect for their needs. Cool fact: When a SmartStart seat is raised to fit a growing child, the distance from the seat to the handle bars increases. This increases the reach distance and will allow the bike to grow with them.
We have loved teaching my daughter to ride a bike on the Schwinn SmartStart bike because it is built to make the process easier for us. Everything from the light-weight design to the size of the seat helps my daughter feel more comfortable and helps the learning process to be easier. My daughter is now excited to climb on her bike to go on a bike ride with the family. She still gets distracted by her feet, often-- but we are well on our way to taking off the training wheels this summer! You can find the Schwinn SmartStart Bike at Toys R Us.
More about the Girls' 16 inch Schwinn Jamboree Bike
"Built around the proportions of a child, the Schwinn Jamboree Girls' 16" Bike offers SmartStart to ensure your little one rides in comfort. The single-speed bicycle features a coaster brake for simplicity as your little rider bikes up and down your driveway. Coordinating fenders, streamers and classic Schwinn styling provide a cute look, and the handlebar basket lets your youngster bring her favorite toys along for the ride. 6" tires for speeding along in your driveway, Single-speed for ease of use, Coaster brake for sure stopping power, Handlebar basket lets your little one bring toys or a drink while she rides, Classic Schwinn styling, Coordinated fenders and handlebar streamers for a fun design, SmartStart is built around the proportions of a child for easy on and off, Recommended height: 38" - 48" tall." Here are two videos with more information on how to teach your child to ride a bike, and more about Schwinn Smartstart: VIDEO ONE and VIDEO TWO.
Tips for biking with young riders: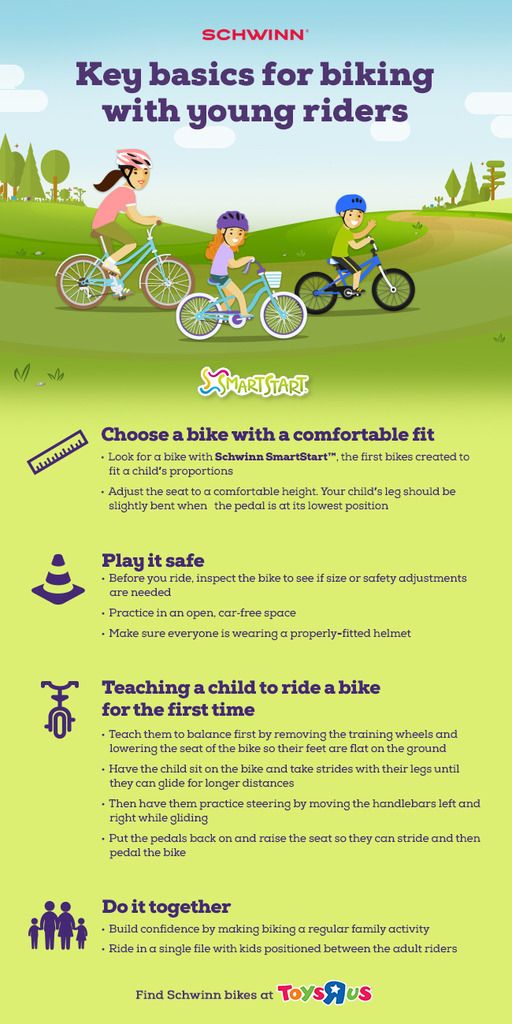 This post is sponsored by Lunchbox but all opinions are my own.