This article may contain affiliate links. If you make a purchase using one of these links, I may be paid a referral fee at no cost to you.
From the creative mind of Britt Menzies, a mom who was inspired by her daughter's simple request to paint her as a ballerina, StinkyKids is a brand with a fun, unique and fresh approach that teaches life lessons through itd products and books featuring the 10 diverse StinkyKids cahracters. The name "'StinkyKids" comes from the phrase "little stinKers", which Britt used to describe the innocent behavior of her two kids when they were little.
The StinkyKids characters are little stinKers who learn to make right choices through their childhood mistakes and who live by the motto "Always Be A Leader Of Good'. StinkyKids is an innovative brand that appeals to parents for the values it represents and appreals to kids because the characters are real kids getting into real mischief.
Are they adorable? I love the designs of all the different kids! I think they are so cute and make me want to read the books because I like their designs so much! 🙂 I had the chance to review the StinkyKids and the Runaway Scissors. I was really looking forward to reviewing this book because I love the concept behind it and that it helps to teach kids to make good choices. I love it that they want to help kids learn the importance to 'Always Be A Leader OF Good'.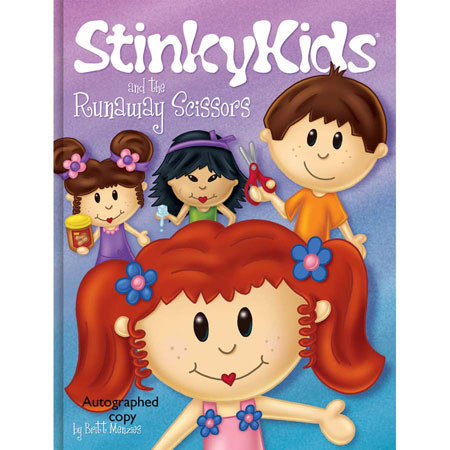 ABOUT Stinky Kids and the Runaway Scissors
Saturday was Britt's favorite day. It was the day Britt had a playdate with her friends Hannah, Max and Julie. But this Saturday Britt had a secret. A secret she didn't want to tell her mommy and daddy. A secret that could stop her favorite playdate from happening!
The "little stinKers" try their best to help Britt with her secret. Along the way they learn that sometimes secrets need a parent's help to solve.
I have four kids so naturally we love to find new books to read. My kids were very excited to receive a new book in the mail. We love the look of the characters which made my kids instantly like the book. For some reason character design and color is very important because it really draws the child in and my kids loved it! We really enjoyed reading this book together. It is basically the story of a young girl who gets gum stuck in her hair and is too scared to tell her mom. This really made me laugh and go back to my childhood memories because I remember this happening to me. On my first day of school I got gum stuck in my bangs. I was so nervous to tell my mom and ended up with my bangs cut horribly short for school! 🙂 In this book, they think about all of the different options in getting the come out but finally realize that its best just to ask their parents for help!
I love stories that teach kids great lessons. Especially ones that help and benefit me as a parent. Having my kids feel like they can come talk to me is very important to me. Plus, I would rather them learn from the lessons of a character in a book then to learn it themselves! My daughter has beautiful curly hair and I would be so sad if she was too scared to talk to me and cut it off!!!
This was a wonderful book and definitely mom and kid approved!!
For more information or to be kept up to date on the adorable StinkyKids you can follow StinkyKids on Facebook and Twitter.
MomsReview4you highly recommends the adorable StinkyKids books and dolls! They are a great addition to any kids collection.