This article may contain affiliate links. If you make a purchase using one of these links, I may be paid a referral fee at no cost to you.
Can I just say that I LOVE my Panjerize Infinity Scarf? I think it is best described with Panjerize's description of "Geek Chic".
What sets out Panjerize's Infinity Scarves from other Infinity Scarves? Its the perfect chic accessory s

pecializing in geek chic and subtle nerd themes!

From a distance, this looks like a subtle pattern–but it's much more than that!

Looking in close at the Pixel scarf for example, you see that it contains a repeating pattern of cream colored pixelated snowflakes, on a dark gray background.
Here are a few more examples: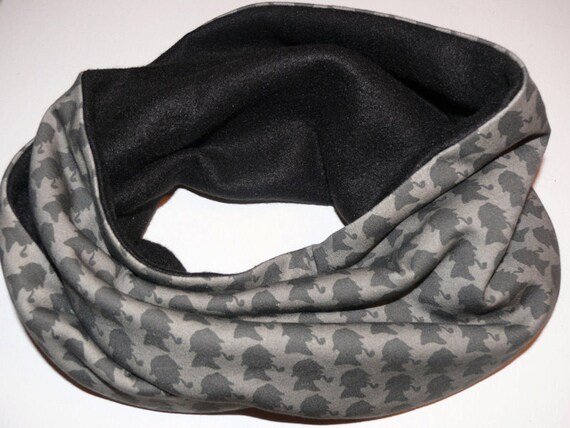 Up close you see a

repeating pattern of Sherlock Holmes profiles.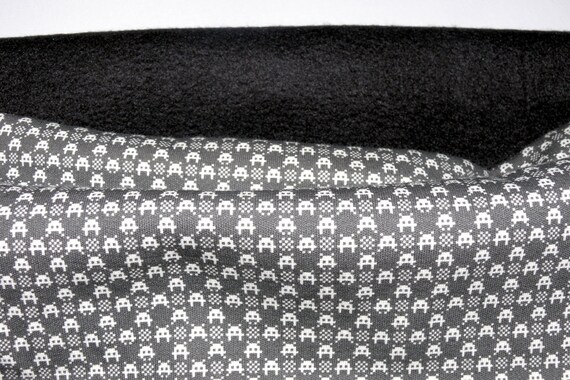 Up close this scarf

contains a subtle plaid of dark gray and off-white, inspired by classic space-themed video games like Space Invaders!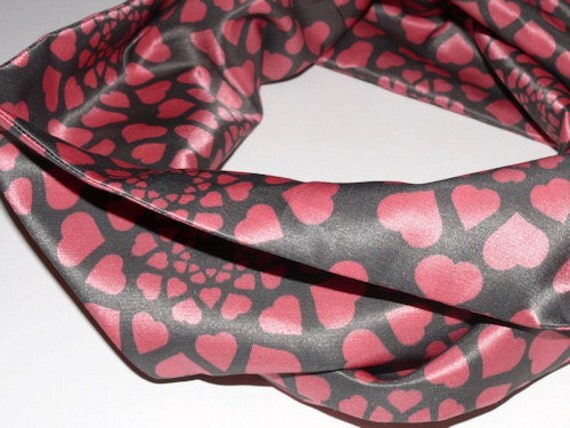 This print features a fractal-like geometric pattern of pinkish-red hearts on a black background.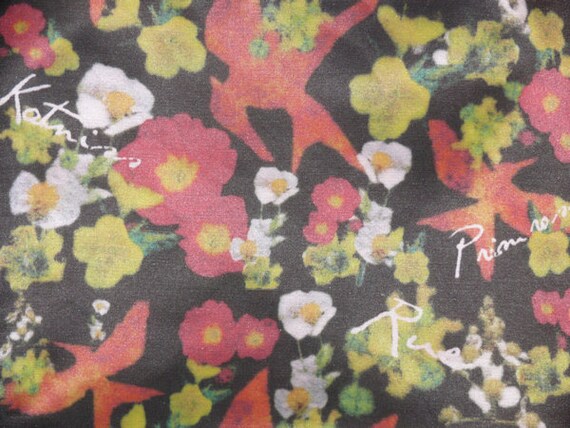 The fabric for this infinity scarf is a Hunger Games-inspired print–featuring names of Katniss, Primrose, and Rue, as well as their namesake flowers and mocking jays.
Pretty cool huh! Or I guess I should say Geek Chic! 😉
At Panjerize, you receive a high quality hand-made infinity scarf that is perfect for a techie! The scarf I received is (approximately) a 54″x10.5″ loop made from a combination of organic cotton knit fabric and fleece. But they also sell infinity scarves in other sizes and fabrics like the Fractal Hearts Infinity Scarf shown above.
Here is what I love about my Infinity Scarf that I received from Panjerize. First off, it is super warm. I live in Utah, and right now, it is very cold outside. I love that this scarf is made from fleece because it makes it very warm. It really is perfect for the winter. I love that this scarf looks so stylish and "chic" but up close you are able to wear your personality as part of your wardrobe. I have personally never worn an infinity scarf before and I really like them compared to a traditional scarf because they stay in place and are a lot less bulky.
When I first came out wearing my Pixel Snowflakes Infinity scarf, my husband instantly complimented me on this adorable scarf. I showed him the pattern up close and told him about this great way to wear a stylish, comfortable scarf while letting your personality come through. I asked him what he thought about Panjerize and he said it is definitely a great way to be Geeky and Elegant at the same time.
Wouldn't this be such a fun gift? I can think of so many people that would love a Hunger Games inspired scarf, or Doctor Who themed scarf! Panjerize
is "your stop for Nerdecor and Nerdrobe items! Translation: clothing and decorative items for nerds. Specializing in geek chic and subtle nerd themes!"
To see their whole selection you can visit them online at

http://panjerize.etsy.com
For updates on their newest styles, or for the current coupons you can visit Panjerize on Facebook:
https://www.facebook.com/Panjerize
If you are anything like me, you LOVE a good deal!
Enter coupon code MOMSREVIEW4U on their etsy site and receive a 15% discount!
The coupon is valid through the end of February 2013!
Guess what! 🙂 I have a really

fun giveaway

for you! We are giving away TWO infinity Scarves! (Two winners- each wins ONE scarf)