This article may contain affiliate links. If you make a purchase using one of these links, I may be paid a referral fee at no cost to you.
If you are looking for the perfect toddler princess dress or princess dress up for girls, you will love the quality, selection and durability of Little Adventures.

On an cuteness scale of 1 to 10, Little Adventures dresses are definitely an 11! Especially on an adorable toddler! Just like many little girls, my daughters LOVES princesses! She was so excited when she was able to become a princess herself with these cute Princess dresses.
There is something about the perfect dress that makes a girl want to wear it 24/7, curtsey whenever she sees you and dance in the living room. And I love every minute of it!
Little Adventure dresses are more than just a cute dress, though. They are detailed, high quality, comfortable and the best part– machine washable! You know as a mom how important machine washable is for a costume that your child wants to wear all the time!!
How is the quality of a Little Adventure perfect toddler girl princess dress?
This is definitely one of the things that stood out to me first. These adorable dress are made with high quality fabric and detailed with bows, ribbons, sequins and more. Their attention to detail is perfect and your little girl will feel just like their favorite princess.
Are Little adventure Dresses comfortable?
Has your daughter ever REFUSED to wear a dress because it is TOO ITCHY? My daughter is so picky about what she wears and if it itches at all, she complains and does not want to be wearing it. The fabric used for Little Adventure dressup is really soft and does not itch. My daughter will wear it all day and then ask if she can sleep in it!!
Can you Machine wash your dress?
YES!!! You can wash your perfect toddler girl princess dress!
What kind of a selection can you find at Little Adventure?
If you are looking for a Halloween costume, or for the perfect dress up, you can find something for boys and girls at Little Adventure. They have a fun selection of super hero, fairy, princess dress, adventure dress up and more. You can even find the perfect accessories.
I recommend getting a Princess crown and Fulness skirt to go with their dress.
Get your matching princess doll dress
One of my favorite things about Little Adventures doll dresses is that you can find the most adorable matching doll dresses for their 18 inch dolls. My daughter loves imaginative play and she loves matching with her favorite doll. It definitely makes it more special when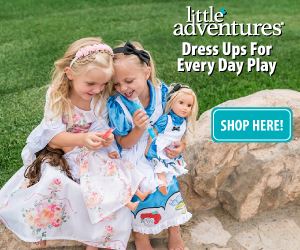 Get a discount on your perfect toddler girl princess dress
Is your daughter celebrating her birthday soon or do they love to play dress up? There are fun dress up selection for boys and girls at Little Adventures. Use code MR4U15% to get 15% off your purchase!

Little Adventures Giveaway
One Lucky A Sparkle of Genius reader will win $100 gift code for Little Adventures! Choose from princess dresses, accessories, matching doll dresses, super hero costumes and more. See our other giveaways!