This article may contain affiliate links. If you make a purchase using one of these links, I may be paid a referral fee at no cost to you.
To be completely honest with you, I was so excited to review the Pop-Arty beads because I have been eyeing the at
target
for so long! Every time I saw them, I wanted to buy them, but never did because I wasn't sure if we would like them or not. This review was perfect because it was able to answer all of the questions I had about the
Pop-Arty
and allows me to share them with you!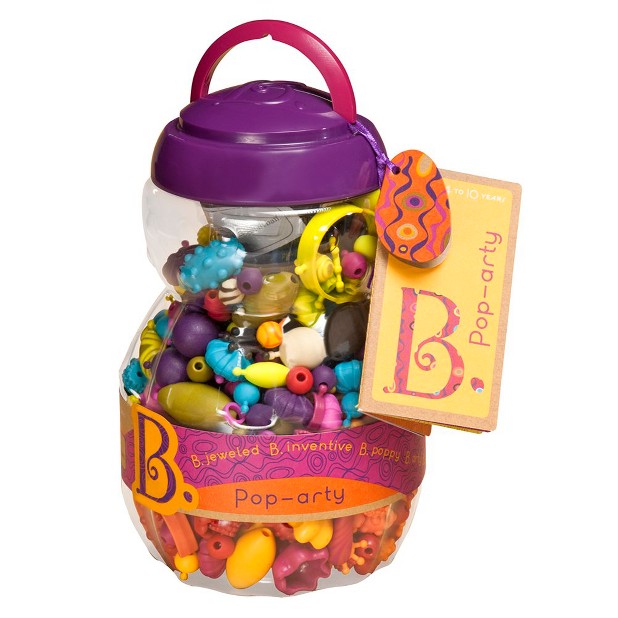 Doesn't this look so much fun? Who wouldn't want a ton of beads! Regular beads actually drive me crazy because I am always having to search for some kind of ribbon or string that we can use to attach them. Pop-Arty beads are perfect because they snap-together.
With Pop-Arty you can make all kind of fun jewelry! This comes with 500 pieces including 12 rings and 6 bracelets. I love all the bright colors and fun shapes. They are so much fun for kids and really helps them develop creativity as they decide what they want to make and have the chance to create it themselves. My three year old also loved to sit down with us and use the Pop-Arty
snap together jewelry
. This really helped him develop his coordination as he had to learn how to get them together. He was able to learn quickly and had a lot of fun!
It was actually quite funny to me how sucked in we got to making snap together jewelry. My brother and sister in law came into town to visit us and we decided to get out the Pop-arty so they could play with the kids. Over the time they were here, we pulled it out many time and probably spent multiple hours creating jewelry, tying the kids up ;), seeing how long of a train we could make and really just having a lot of fun! My daughter loved to make all kinds of jewelry to wear and had so much fun dressing up in it! Isn't she a cutie!
My son of course, decided that the jewelry part was for girls and so he would love for me to capture him and then tie him up with the snap-together beads! He would giggle and laugh as we did it and then he would want me to do it again!
I think one of my favorite things about the Pop-Arty, is that it is so fun for kids…..
But adults can enjoy it too!
So here is what I think! Pop-Arty is SO Much fun! Its a great way to hang out with your kids because it helps you teach them to be creative while having fun. This would be a fun birthday present for a friend, Christmas gift, or just because you want to have fun. The snap-together beads are super fun colors and unique shapes and designs which make it so enjoyable to use. They are such nice quality and the quantity of pieces allows for everyone to play together without running out of pieces! So, if you are walking down the aisle at Target and are wondering if you should buy it, remember that MomsReview4you says "YES"!