Written and Illustrated by Kazu Kibuishi
Book Summary
Emily and her friends think they'll find the help they need in Cielis, but something isn't right. Streets that were once busy are deserted, and the townspeople who are left live in fear. Emily is soon escorted to the Academy, where she's expected to compete for a spot on the Guardian Coucil, a group of the most powerful Stonekeepers. But as the number of competitors gets smaller and smaller, an awful secret is slowly uncovered – a secret that, if left buried, means the certain destruction of everything Emily fights for.
I hadn't heard of the
Amulet
series before doing this review. I have a 9 year old son that loves to read so naturally I wanted to get his help with the review. He was very excited to get new books to read. As part of his homework assignment he is supposed to read 20 minutes each day. He decided to go to bed a little early so he could get started on reading Amulet. I kissed him good night and didn't think any more of it until he came out of his room a few hours later, really excited. He said, "guess what, mom! I finished the book!" He was so into the book that he couldn't put it down! I was concerned that maybe he read it too fast and didn't really get anything out of it so I asked him to explain the story to me. He excitedly went into great deal about how cool the book was, what happened, and how he loved the comic book style! I don't think i've found a book before that he was so excited about that he read until he was finished!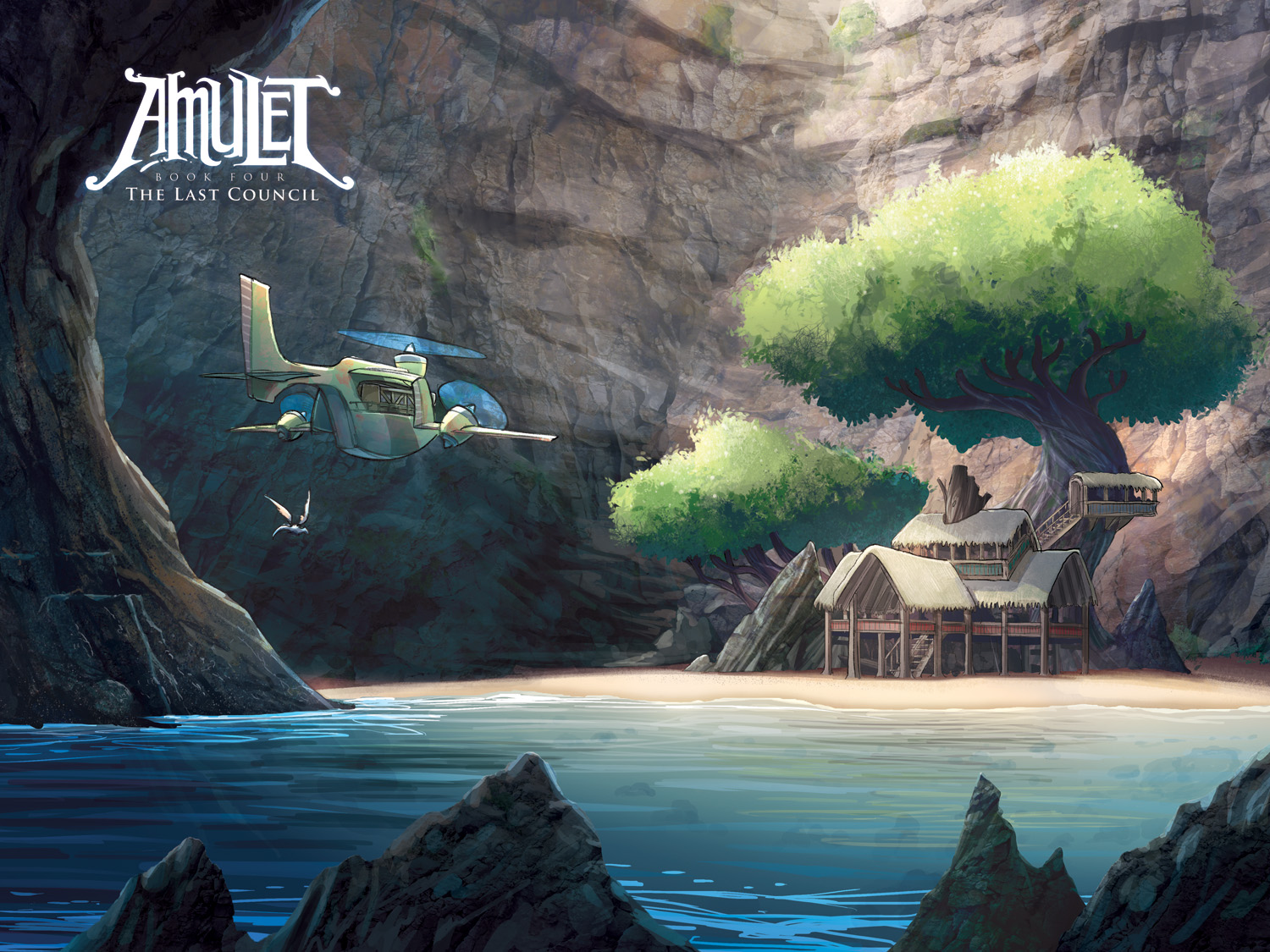 I love the art work, designs and colors in this book. I think that it is beautiful to look at. You can see from the pictures what I am talking about! I think that having it be comic book style with a great story really allowed for him to see the story better and put a picture to what was happening. The story is really great and full of adventure. I think this would make a great gift for the holidays and I will definitely be adding it to my holiday gift guide!
I think this is a great book and a lot of fun. I would recommend it to kids 8-10 and up. This book is Momsreview4you approved and kid approved! To get you excited, check out the trailer for the book:
Guess what! I have a wonderful giveaway for you! 5 lucky readers will win a copy of AMULET Book Four: The Last Council By Kazu Kibuishi
*Follow MomsReview4you on GFC
*Subscribe to MomsReview4you via email (right hand side)
*Write a blog post linking to this giveaway
*Share this giveaway on Facebook
*"Tweet" this giveaway- you can tweet once per day (leave a comment each day)
*Put my button on your blog or website. Add weblink in comment
How to Win – Maximize your chances of winning. Please Leave a separate comment for each entry. Only valid after you complete the first mandatory entries. If you are already a follower you still qualify just mention that in comment.
Giveaway ends 10/18/2011 at 11:59 (PDT). Winners will be chosen via random.org and will have 48 hours to claim their prize. US only. Winner will be posted on blog – if an email is given, they will be contacted.
For up to date information visit the Websites: http://www.boltcity.com/amulet and http://www.scholastic.com/amulet